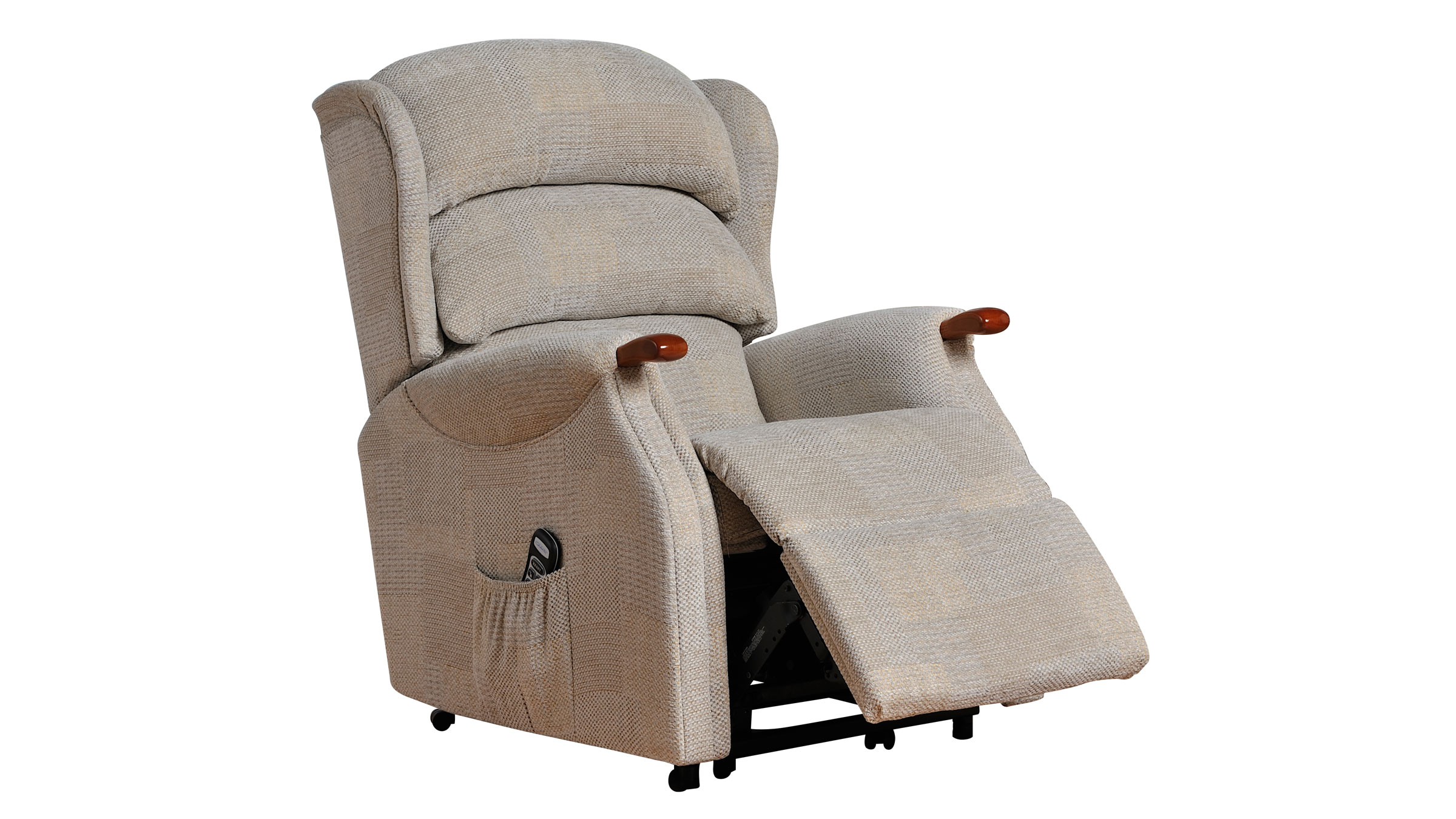 About the Westbridge Recliner Chair collection
Hand crafted and built to last in the UK, with a 5-year guarantee that covers, the electrics and recliner mechanism, the frame and seat interiors.
We have been in partnership with this factory for over 17 years, and we consider the quality and reliability of their recliners to be unsurpassed in the marketplace. Beware there are cheap Chinese made copies in the marketplace, which experience has taught us, are poorly made and unreliable.
3 sizes; Grande, Standard or Petite
Medical Grade foam
Recline options: Manual, Single Motor Rise & Recline, Twin Motor Rise & Recline
Comes in either Fabric or Leather with either a wooden or upholstered knuckle
VAT Refund – we are permitted to refund the VAT if you have a disabling condition, please ask for details
Recommendation: We would always recommend the twin motor rise & recline, this only around £100 more than a single motor, but it allows you to independently operate the back from the footrest, which allows you to adjust the position of the back and footrest for optimum comfort.
Please call
01905 612 244
or visit our showroom for further friendly help and advice.
SAVE
£400

Grand Size Manual Recliner Chair

W84cm x H117cm x D94cm

(Seat W84cm x H94cm x D117cm)

SAVE
£400

Standard Size Manual Recliner Chair

W77.5cm x H109cm x D89cm

(Seat W49cm x H49cm x D50cm)

SAVE
£400

Petite Size Manual Recliner Chair

W72.5cm x H104cm x D86.5cm

(Seat W46cm x H47cm x D45.5cm)
Grand Twin Motor Rise & Recline Chair
W84cm x H117cm x D94cm


(Seat W46cm x H47cm x D45.5cm)

£1,659

£2,060

Grand Single Motor Rise & Recline Chair
W84cm x H117cm x D94cm


(Seat W46cm x H47cm x D45.5cm)

£1,490

£1,890

Standard Twin Motor Rise & Recline Chair
W77.5cm x H109cm x D89cm


(Seat W46cm x H47cm x D45.5cm)

£1,599

£1,999

Standard Single Motor Rise & Recline Chair
W77.5cm x H109cm x D89cm


(Seat W46cm x H47cm x D45.5cm)

£1,430

£1,830

Petite Twin Motor Rise & Recline Chair
W72.5cm x H104cm x D86.5cm


(Seat W46cm x H47cm x D45.5cm)

£1,599

£1,999

Petite Single Motor Rise & Recline Chair
W72.5cm x H104cm x D86.5cm


(Seat W46cm x H47cm x D45.5cm)

£1,430

£1,830
Westbridge Sofa & Chairs
SAVE
£400

3 Seater sofa

W178cm x H110cm x D86cm

SAVE
£400

2 Seater Sofa

W128cm x H110cm x D86cm

SAVE
£400

Chair

W78cm x H110cm x D86cm